Brief #30: human cost of US-China rivalry, ASIO raid, Lowy poll, Canadian hostages
China Neican is a weekly column of the China Story blog written by Yun Jiang and Adam Ni.
1. US-China rivalry and human perspectives
This has been a confusing week for US trade policy on China. First, the White House trade adviser said on Monday that the trade deal with China was "over". The US President then tweeted that "The China Trade Deal is fully intact". This perhaps highlights the differences in opinions within the Trump Administration on how the US should handle China. Such confusing and mixed messages are not helpful to anyone.
US-China competition and rivalry may be interesting for strategists and think tank analysts, but they do have a real human cost. We have previously highlighted the consequences of the US' research collaboration and immigration policies for scientists. Yangyang Cheng, a Chinese physicist working in the US, has written eloquently — often from a very personal perspective — on being stuck between China and the US in the era of rising tensions. In her latest article, she wrote:
As a Chinese citizen, I am not American; my presence in this country is a constant reminder of this fact. Because I am employed at an American university, my labor is considered American; I am contributing to "the American research enterprise."

…

Foreign scientists who leave the U.S. are not "America's loss"; they or their work are not for America to claim in the first place. Diversity, including geographical diversity, is crucial for the healthy development of science. What does make America poorer is its arrogant insistence on hegemony, its racism and xenophobia.
For others, the COVID-19 experience has shattered their perception of China. The New York Times reports that many "little pinks" — young Chinese nationalists actively defending China online — who are studying overseas are feeling betrayed by their motherland. Many Chinese students are stranded overseas while the Chinese Government (and people in China) told them to stay put, fearing them as a source of new infections.
Unfortunately for them, while they see themselves as part of "China", some people in China see them as part of the "outside". Meanwhile, some people in the country they reside in also see them as the "outsiders" and they may experience prejudices from both sides. This is the reality that many migrants have to constantly deal with — where do they belong and what is their sense of identity.
2. ASIO raid
"Multiple sources" have revealed to The Age and 60 Minutes that the Australian Security Intelligence Organisation (ASIO) is investigating allegations of foreign interference involving a NSW state parliamentarian, Shaoquett Moselmane. The Australian Federal Police (AFP)'s raid on the properties of Moselmane was filmed by 60 Minutes.
At this stage, the exact allegations against Moselmane are not public. However, for ASIO and AFP to take such public actions suggests that they are taking seriously whatever the allegations are. If it was to proceed to prosecution, it could be the first prosecution under the National Security Legislation Amendment (Espionage and Foreign Interference) Act 2018. As the first case under the legislation, it would be quite significant.
Since the allegations are not yet public, media coverage has focused on Moselmane's attitudes to China and his speeches on China. According to The Age, Moselmane and his part-time staffer have supported Chinese government positions while criticising Australian government policy, including the counter foreign interference laws. He has taken a number of expense-paid trips to China and while there, met with Chinese Government and Chinese Communist Party officials and made a few controversial comments, which has been described by the Home Affairs Minister as "Chinese government talking points".
However, these controversial comments by themselves are not evidence of foreign interference. Australians (and indeed anyone) can hold controversial opinions on China, including disagreeing with official Australian government policies. In fact, that is the basis of any democratic system. There would not be an opposition party if no one can criticise official policies.
We look forward to seeing the details of behaviours that are coercive, corrupting, deceptive or clandestine. Public details of these behaviours will help deter similar behaviours in the future.
3. Lowy Poll
The Lowy Institute's 2020 "Understanding Australian Attitudes to the World" poll released this week found that trust in China by Australians is at the lowest level ever since the poll started. The bottomline is that Australian attitude to China has turned sharply with significant reduction in trust, and rising threat perception.
Only 23 per cent of Australian surveyed trust China somewhat or a lot 'to act responsibly in the world,' a 29-point fall since 2018. Trust in the US is at 51 per cent, same as 2019.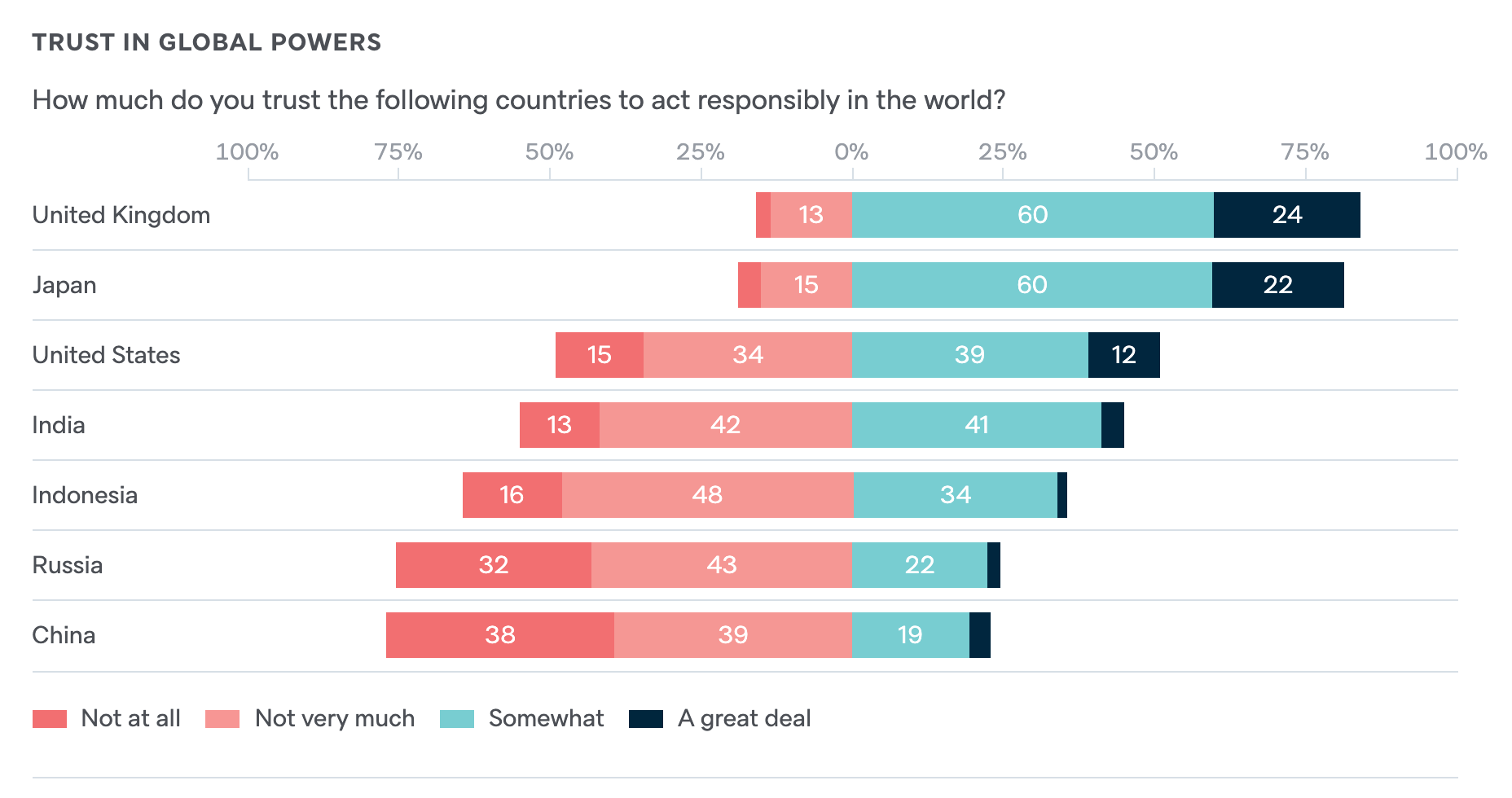 Confidence in US President Donald Trump 'to do the right thing regarding world affairs' actually rose five-point from 2019 to 30 per cent. Confidence in Xi Jinping, however, dropped sharply by 21 points from 2018 to 22 per cent.
55 per cent says that Australia's relationship with the United States is more important than Australia's relationship with China whereas 40 per cent believe that relations with China is more important. In 2017, they were at around the same level.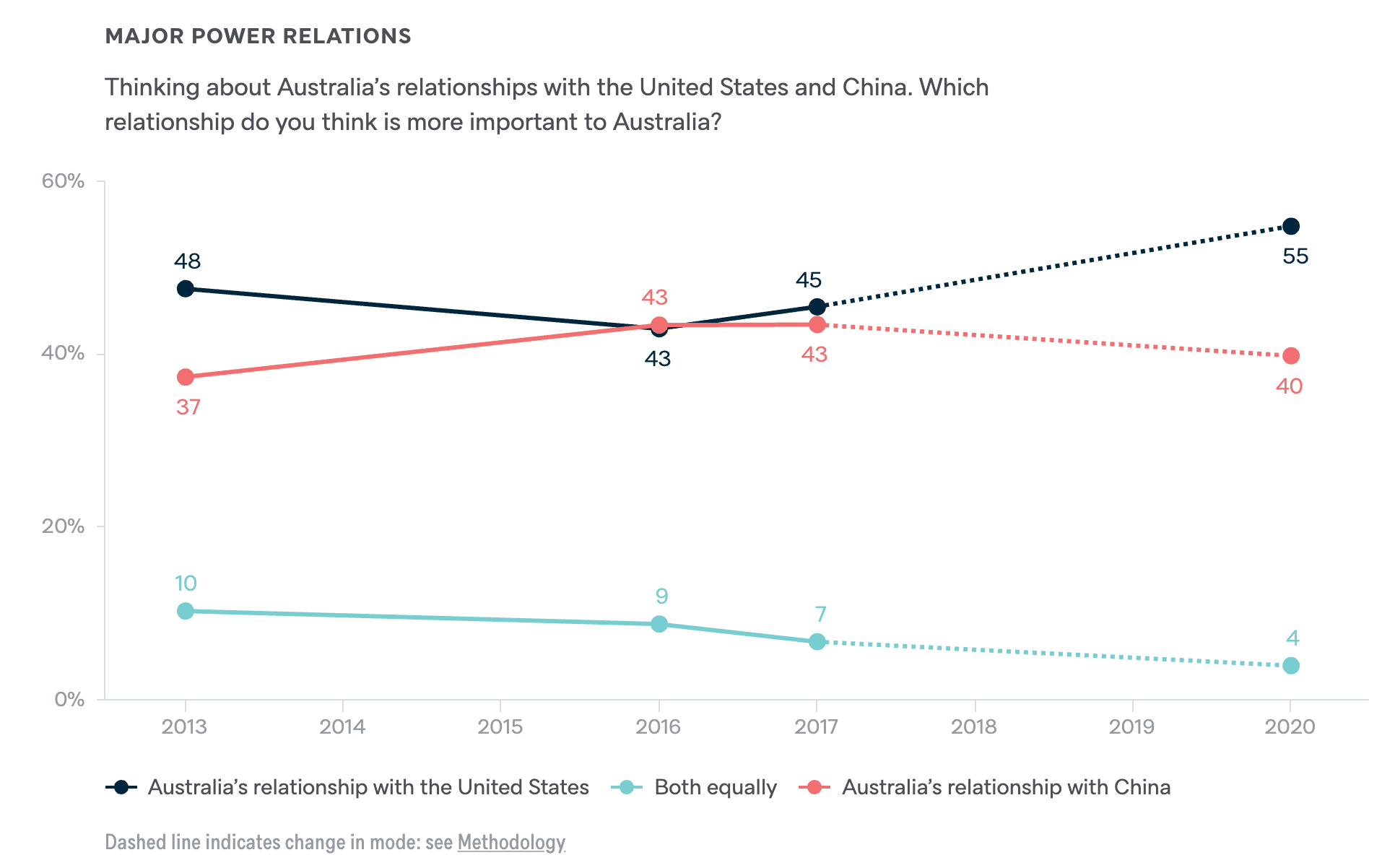 55 per cent of those surveyed see China as an economic partner (a 27-point fall from 2018) rather than a security threat (41 per cent - a 29-point rise from 2018). But overwhelmingly (94 per cent), Australians would like 'to find other markets for Australia to reduce our economic dependence on China'. A great majority (82 per cent) support the government 'imposing travel and financial sanctions on Chinese officials associated with human rights abuses'.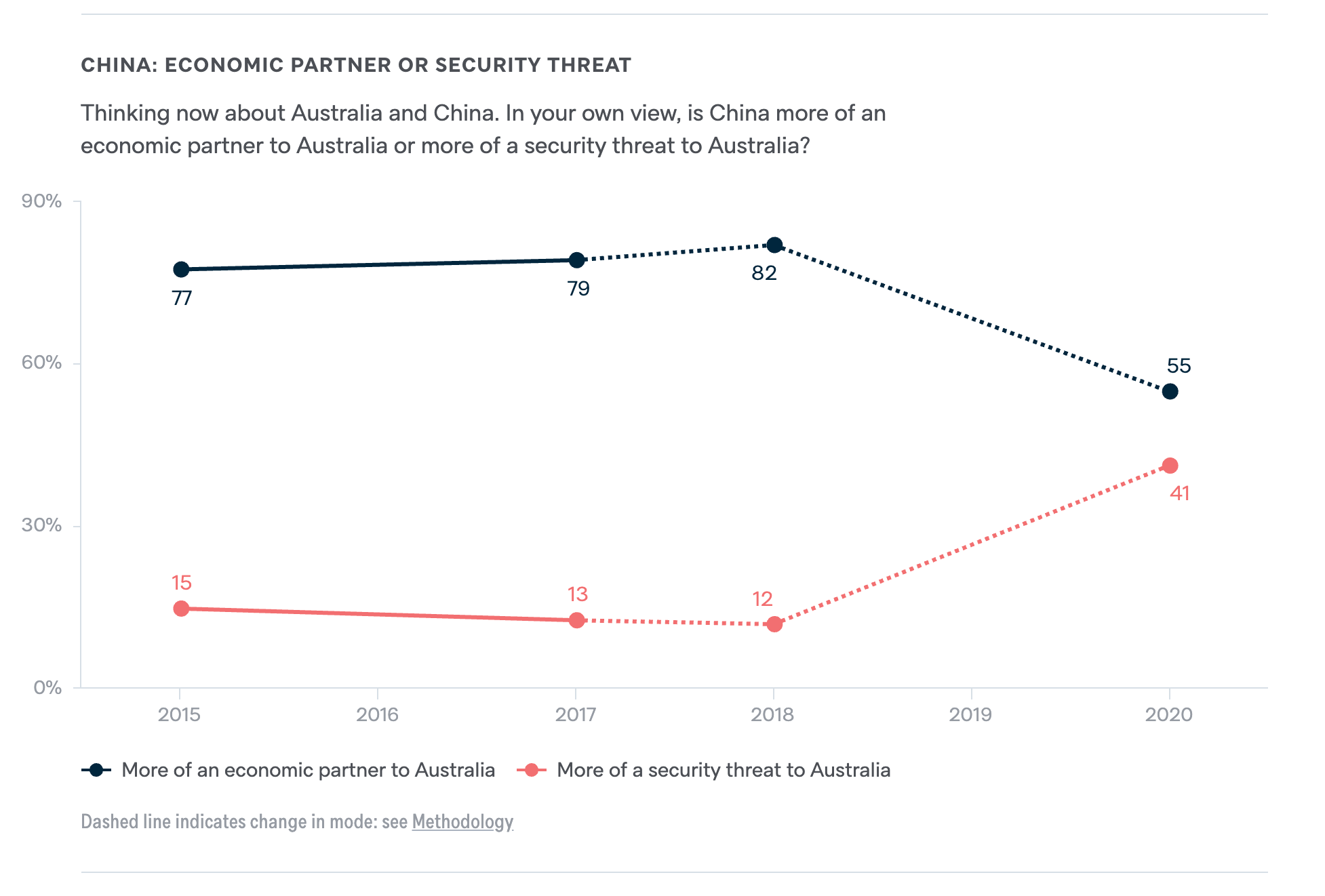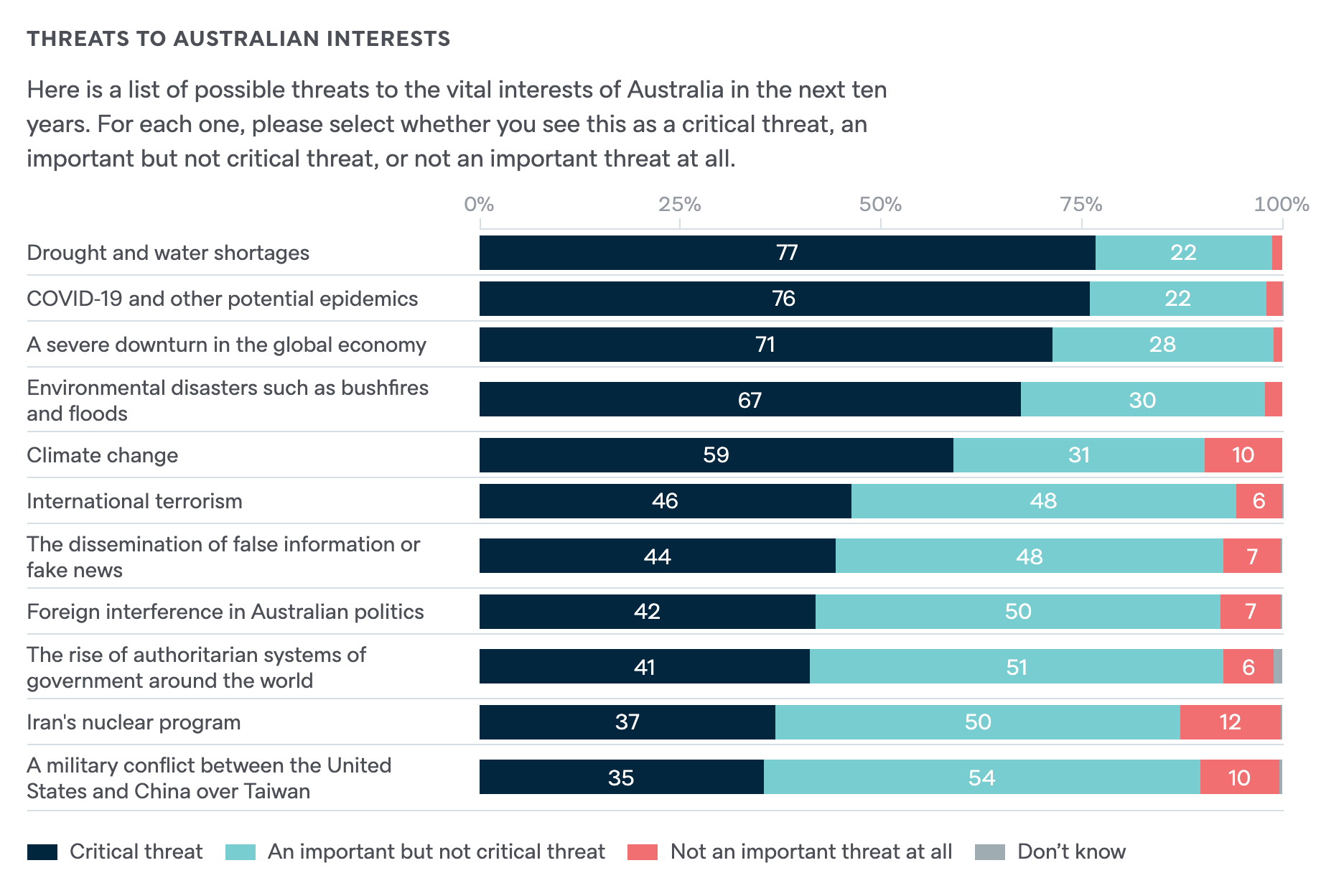 Despite low confidence in Trump, support for alliance with the US continues to be high (at 78 per cent). However, only 34 per cent agree with Australian support for 'military action in Asia, for example, in a conflict between China and Taiwan'.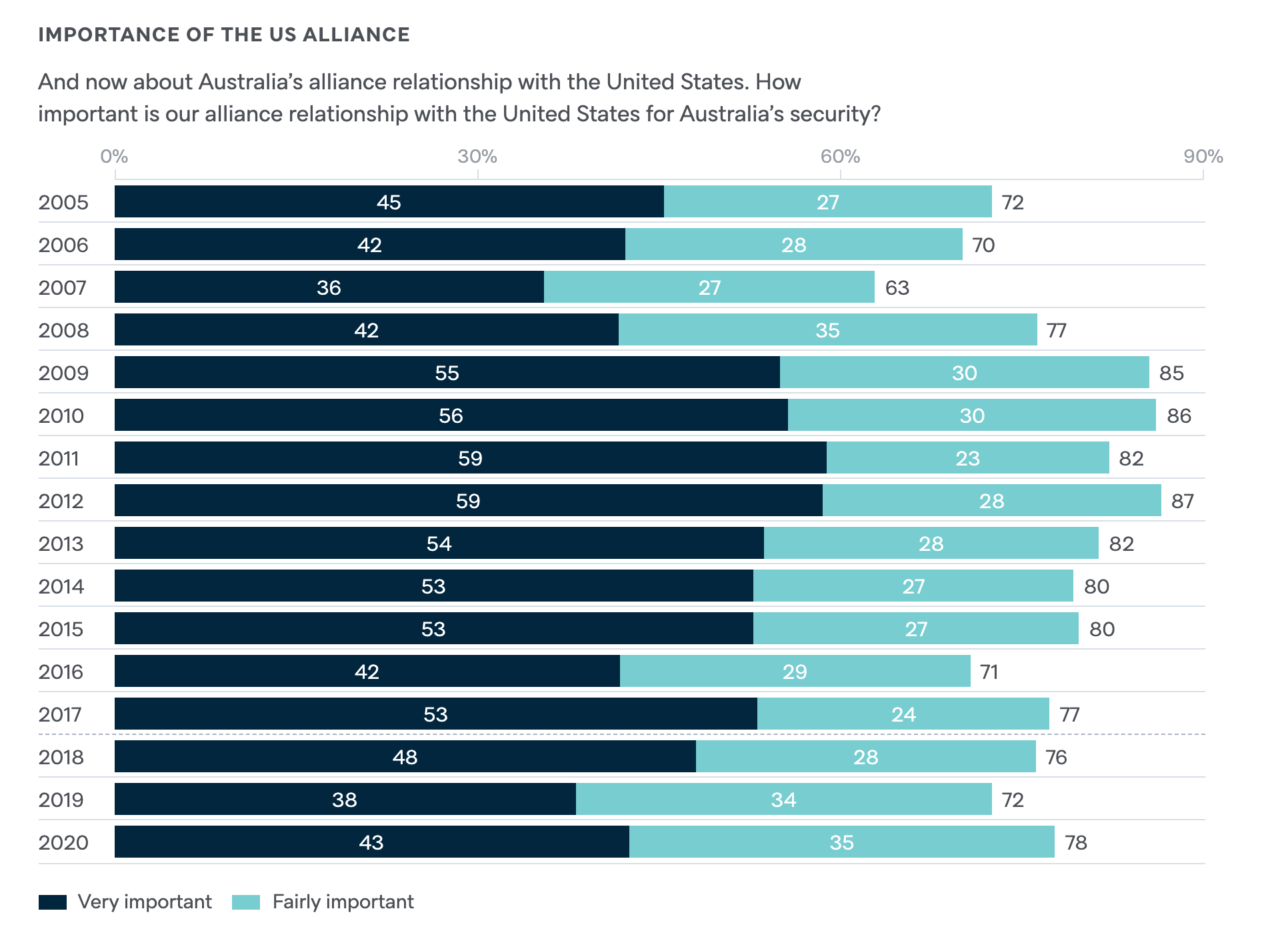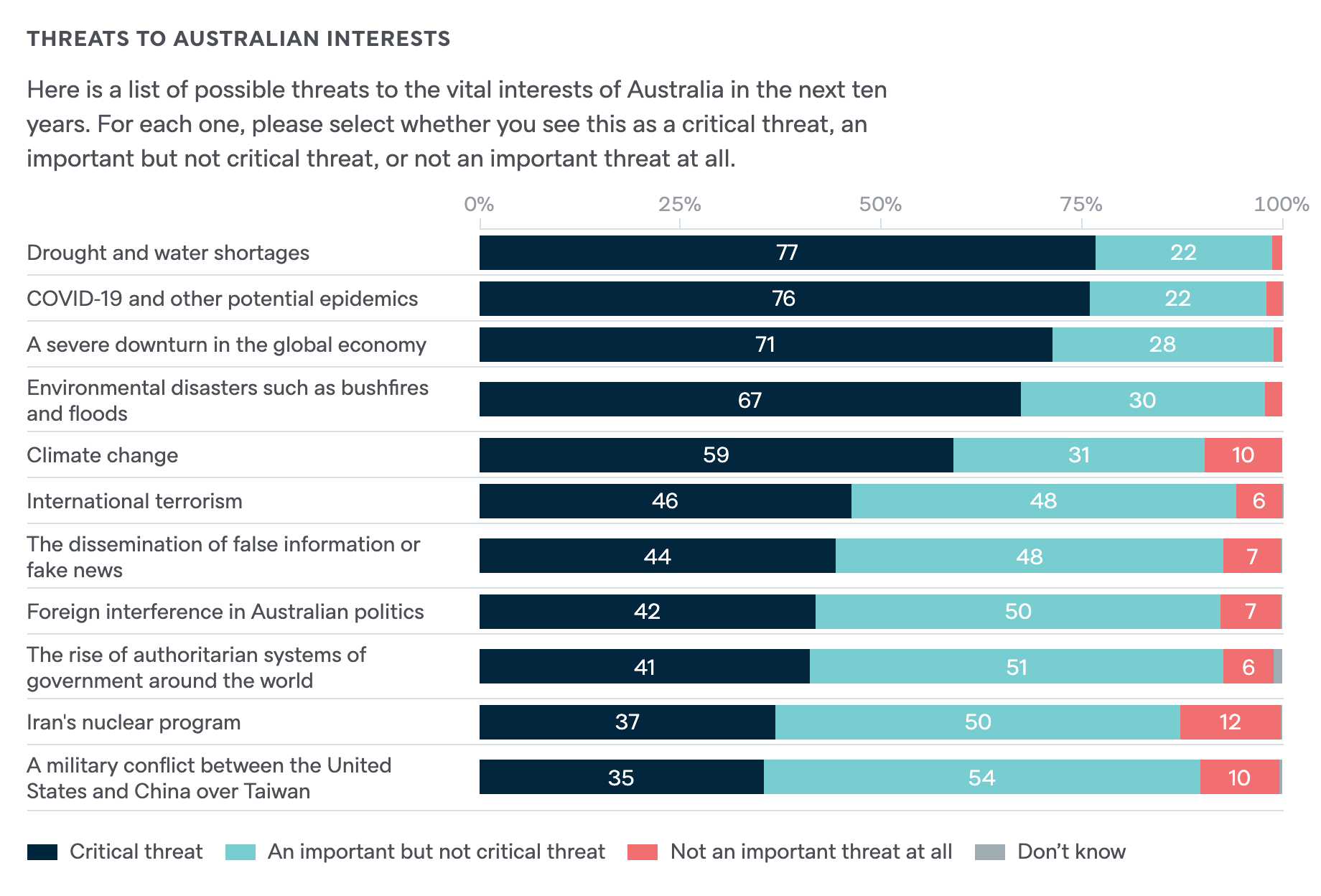 4. Canadian hostages
Earlier in the month, China charged Michael Kovrig and Michael Spavor with espionage after holding them for over 550 days. The two Canadians were taken into custody by Chinese authorities in December 2018, right after the arrest of Huawei CFO Meng Wanzhou, pending extradition proceedings.
Beijing has made it clear, both implicitly and explicitly,  that the Canadians are held hostage, and that their fate is linked to Meng's. Canada can secure their release by freeing Meng.
Candian Prime Minister Justin Trudeau on Thursday categorically ruled out dropping extradition proceedings against Meng in response to calls by a dozen senior former public servants urging the government to end the proceedings in order to release the two Michaels. He said:
If countries around the world, including China, realize that by arbitrarily arresting random Canadians they can get what they want out of Canada politically, well, that makes an awful lot more Canadians who travel around the world vulnerable to that kind of pressure.
As we stated earlier:
Beijing's appalling behaviour [in hostage taking] deserves international condemnation and coordinated action. Without a real cost, its behaviour will not change.

In recent years, China has invested heavily in expanding its foreign media presence in order to "tell the China Story well" 讲好中国故事. But Beijing should know that nothing speaks louder than actions.
It is no surprise that Beijing is defending Meng fiercely, even adopting hostage taking as a means of securing her release. The Party wants to ensure that China's global-throttling ultra rich are on their side by protecting their interests and safety from foreign governments.
Moreover, Beijing sees the extradition proceeding as a political move rather than as a function of an independent judicial system.
This week on China Story:
Scott Waldron, China's Tariffs on Australian Barley: Coercion, Protectionism, or Both?: Australian barley exports to China worth AU$1.4 billion (US$960 million) were shaken in October 2018 when China opened an anti-dumping investigation. The trade came to a grinding halt in May 2020 when China imposed tariffs totaling 80.5 per cent. The case has been widely reported as economic coercion (against Australia's call for an inquiry into COVID19), retaliation (for Australian anti-dumping measures against China), and a "trap" by China (to shore up steel exports). However a new research report argues that these factors are really just triggers for a measure that China wanted to take anyway. In the case of the barley tariffs, the underlying driver is food security. High Australian barley exports over the 2010s became a serious threat to China's food self-sufficiency and import diversification policies, which it arrested through a dubious anti-dumping case. In other words, the barley tariffs are a classic case of protectionism.