Brief #54: Politburo meeting, overseas lending, Chinese journalist
China Neican is a newsletter by Yun Jiang and Adam Ni from the China Policy Centre in Canberra. It is also published as a weekly column on the China Story blog. Neican 内参 or "internal reference" are limited circulation reports only for the eyes of high-ranking officials in China, dealing with topics deemed too sensitive for public consumption. Our writing, however, is open to everyone. To receive regular updates, please subscribe. You can find past issues here.
1. Politburo meeting
Friday's Politburo meeting readout (Chinese | English) mentioned three items: economic policy work for 2021, plans for anti-corruption work for 2021, and rules for elections in local Party organisations.
According to the readout, the Politburo assesses that 2020 has been a good year for China:
This year has been an extraordinary year in the history of the new China. Facing severe challenges and major difficulties, we have maintained our strategic determination, accurately judged the situation, carefully planned and deployed, taken decisive actions, and putting in hard work...China became the only major economy in the world to achieve positive growth...and the centripetal force and cohesion of the whole Party, the whole nation, and all the people have been further strengthened...

This year is the closing year of the 13th Five-Year Plan. After five years of struggle, China's economic strength, scientific and technological strength, comprehensive national power and people's living standards have leapt to a new level. The task of poverty eradication in the new era has been completed as scheduled, achieving a moderately prosperous society is well in sight, and the great rejuvenation of the Chinese nation has taken a major new step forward.

今年是新中国历史上很不平凡的一年。面对严峻挑战和重大困难,我们保持战略定力,准确判断形势,精心谋划部署,果断采取行动,付出艰苦努力...我国成为全球唯一实现正增长的主要经济体...全党全国各族人民向心力、凝聚力进一步增强...

今年是"十三五"规划收官之年。经过5年奋斗,我国经济实力、科技实力、综合国力和人民生活水平跃上新的大台阶,新时代脱贫攻坚目标任务如期完成,全面建成小康社会胜利在望,中华民族伟大复兴向前迈出了新的一大步。
2021 economic policy
On the economic policy work for 2021, the Politburo notes the importance of both demand- and supply-side reform. On the demand side, reform is required to rebalance the economy towards consumption-driven growth. On the supply side, the Politburo highlighted the need to strengthen the country's scientific and technical strength as well as the "ability to independently control the supply side of the industrial chain". Moreover, Politburo points to the need to strengthen anti-monopoly work (which presumably is targeted at large internet companies, especially Alibaba and Tencent). The Politburo also emphasised the need to strengthen the Party's overall leadership of the economy.
Due to difficulties associated with demand-side reform, China's economic recovery is almost entirely on the supply side. For instance, November's trade data shows that exports jumped 15 per cent year-on-year, while imports have dropped 0.8 per cent. The role of the state in the economy has also been increasing rather than decreasing. This is due to the political imperatives of control, with Xi emphasising party control over economic factors. In addition, increased state involvement in the economy may be necessary to maintain a nominal growth rate, if the private sector alone cannot achieve the growth target.
China's supply-side driven economic recovery (e.g., export) and emphasis on technological strength and self-sufficiency are likely to exacerbate existing tensions, especially with the United States and Europe.
2. International lending
Boston University's China's Overseas Development Finance (CODF) Database was released last week. The Database tracks China's two policy banks (CDB and ExImBank)' overseas loan commitments from 2008 to 2019.
It found that lending by China's policy banks peaked in 2016 at $75 billion and dropped substantially each year to $4 billion last year: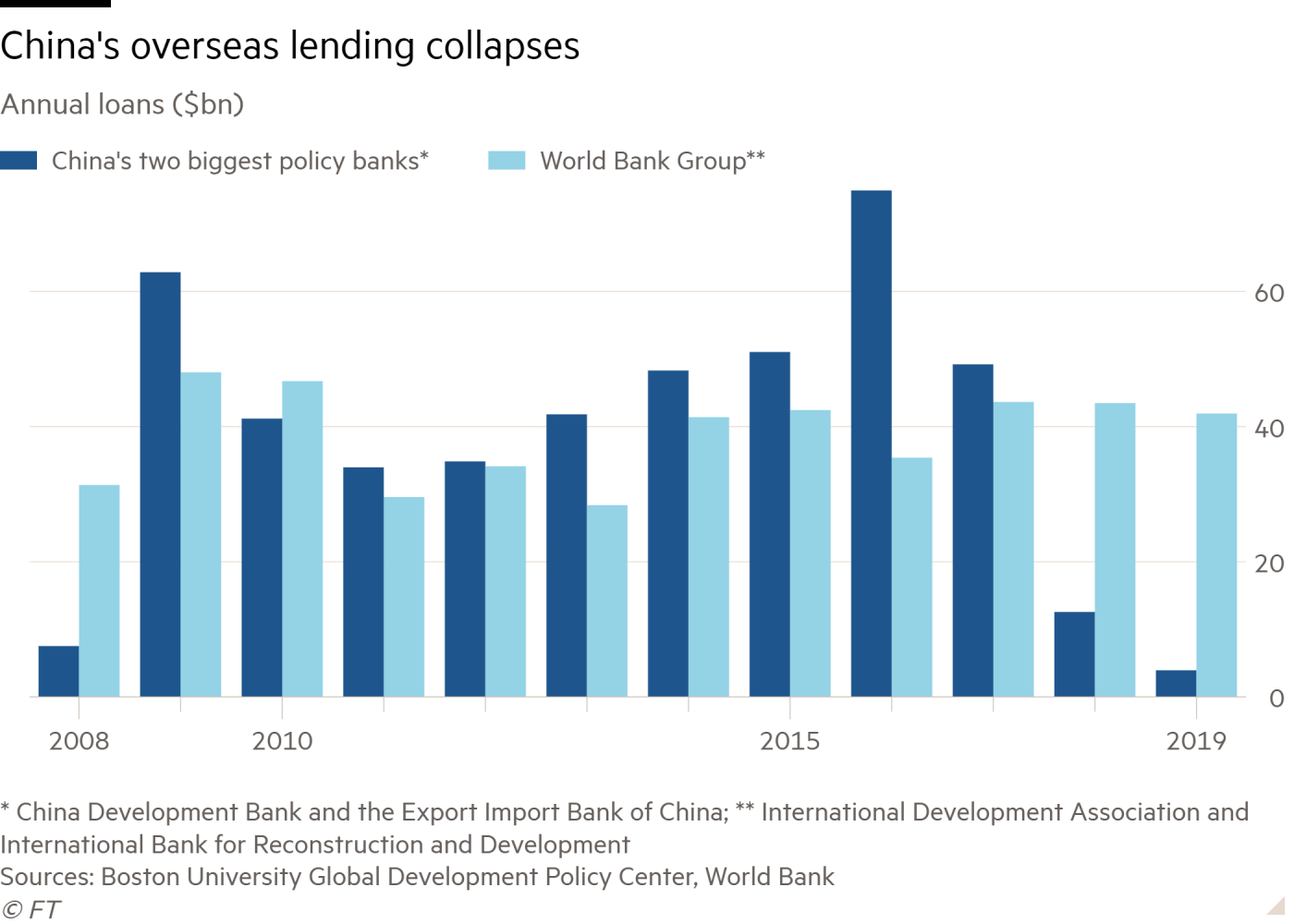 While the Database cautions that it should not be used as the sole barometer for China's overseas economic activities or Belt and Road Initiative (BRI), there appears to be a substantial decrease in overseas lending by China in recent years, and a big part of that is likely to be China's approach to BRI.
BRI is unlikely to go away, as it has been enshrined in the CCP Constitution. However, as China becomes more experienced in its lending activities and more mature in its overseas economic activities, its emphasis and focus are likely to change. It may realise the risks associated with too much focus on big-scale infrastructure projects, such as corruption and governance risks.
Partly in response to international criticisms, China shifted its focus in 2018 from government-to-government level infrastructure projects to small scale local projects. This potentially means more involvement of commercial lenders and private companies, and less involvement of policy banks, for BRI. Some BRI projects are also partly financed by multilateral development banks, which may have more expertise in quality infrastructure and project governance.
Nevertheless, it appears that China's overseas lending has collapsed. It may reflect China's changing approach to the economy. Its focus on the domestic economy (through the "dual circulation" strategy) may mean more investment within China instead of outside China.
3. Detention of Chinese journalist
Haze Fan, an experienced Chinese journalist working for Bloomberg in China has been detained on "national security" grounds. Four months earlier, reporter Cheng Lei was also detained on the same grounds. Cheng Lei was an Australian working for a Chinese state broadcaster in China. As with Cheng Lei, no details have emerged about Haze Fan's supposed wrongdoings. It may or may not be related to her reporting. However, crackdowns on journalists have been quite intensive this year in China.
Unlike Cheng Lei, who is an Australian citizen and therefore has the Australian Government monitoring the case and making representations to Chinese authorities, Haze Fan, being a Chinese citizen, would not have a foreign government pursuing this case. Instead, it would be up to Bloomberg, her employer, to keep the pressure on the Chinese authorities. The question should be asked from this is what steps the news organisations should take to protect their employees, while not jeopardising the career aspirations of these journalists. Choosing to not hire Chinese citizens is surely not the answer.
Chinese citizens are only allowed to work as so-called "new assistants" or "researchers" in China, due to Chinese government regulations. This is despite the fact that they're often at the forefront of sourcing news stories and interviewing people. They are journalists in all but name. Yet they are not credited properly as the journalist. On top of that, they bear the brunt of most harassment from Chinese authorities (and sometimes from within the media organisation too).
These "news assistants" are often young women working in a patriarchal work environment. This topic intersects gender, race, and Global North/South power disparity. NüVoices did a podcast two years ago on this issue.
Quote of the week
求仁而得仁,又何怨。
They pursued the Ren (ideal/humanity) and they got Ren; what is there to resent?
From: Analects

魚,我所欲也;熊掌,亦我所欲也,二者不可得兼,舍魚而取熊掌者也。生,亦我所欲也;義,亦我所欲也,二者不可得兼,舍生而取義者也。
I like fish, and I also like bear's paws. If I cannot have the two together, I will give up fish and take the bear's paws. I like life, and I also like Yi (righteousness). If I cannot have the two together, I will give up life and take Yi.
From: Mencius
The quote from Analects refers to a famous story of 伯夷 Boyi and 叔齊 Shuqi. These two brothers (living around 1000 BCE) were not happy with the actions of King Wu of Zhou. So they vowed to never eat the food of Zhou. As a result, they starved to death in the mountains. Their refusal to eat and subsequent starvation was seen as the epitome of Confucian virtues. They were venerated in Confucian texts.
According to the popular interpretation of the Analects, Confucius believed that the two brothers did not feel any resentment, since they got what they sought after. However, Sima Qian appeared to have disagreed with Confucius, suggesting that they may have felt resentment. Nevertheless, Sima Qian venerated the two brothers, placing their story as the first chapter of the 列傳 "Biographies" section in the Records.
The Mencius quote is the Chinese equivalent to the English idiom "You can't have your cake and eat it too" (literally, you can't have both fish and bear's paws) 魚與熊掌不可兼得. Mencius would give up life in order to pursue Yi (righteousness), just like Boyi and Shuqi would starve to death in order to pursue Ren (humanity). In contrast, Zhuangzi meant may have chosen differently.
Chinoiserie
[in Chinese] A masterfully written two-part article Reassessing the Lin Biao Incident 林彪事件再考察 (Part 1 and Part 2) by Chinese historian Xiao Gongqin 萧功秦 examines the immediate events leading up the plane crash that killed Lin Biao and eight others on September 13, 1971. Highly recommended for those interested in Cultural Revolution era history.
If you want to read more about domestic Chinese policy and politics (such as Politburo meetings and study groups), you can subscribe to Zichen Wang (from Xinhua)'s personal initiative Pekingnology.
This week on China Story:
Michael Zhou and Thomas Pantle, China's economic coercion — theory vs practice: Mutually beneficial trade links may appear tempting to use as political leverage in theory, but there are a number of reasons why the reality of attempting to put theory into practice is more complicated. Recent events in the Australia-China context make for a salient case study of why this is the case.
Elena Collinson, Joe Biden and US-PRC relations: Joe Biden's policy vis-a-vis the People's Republic of China (PRC) will ultimately be framed not only by the political, economic, technological and social conditions in the US, but also by the changing dynamics between the PRC and other countries in Asia. This, in turn, will shape Australia's foreign policy choices as well.