Xi on external propaganda and discursive power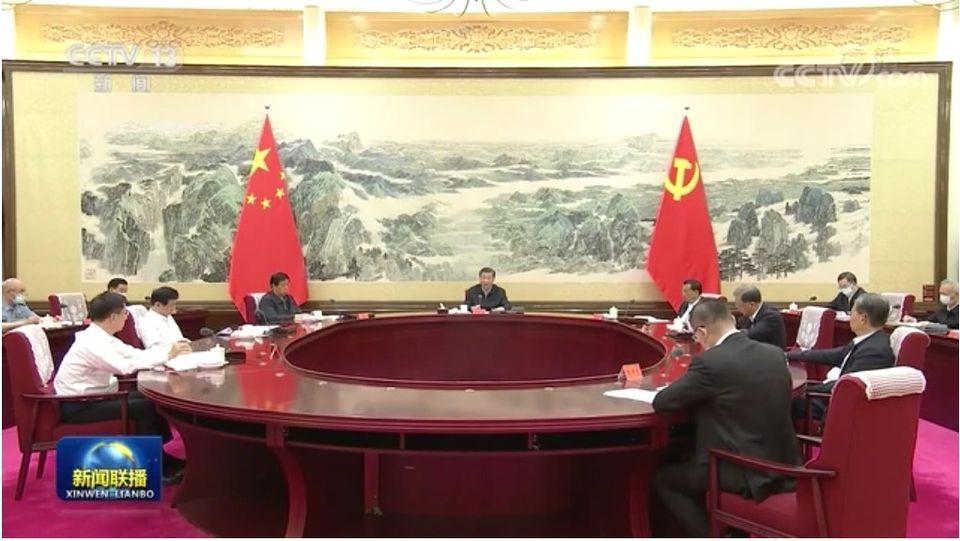 习近平在中共中央政治局第三十次集体学习时强调 加强和改进国际传播工作 展示真实立体全面的中国
Xi Jinping stressed during the 30th collective study of the Political Bureau of the Communist Party of China Central Committee the need to strengthen and improve international communication work to showcase a real, three-dimensional and comprehensive China
[Click here for the original meeting readout]
Introduction and Translation by Adam Ni, edited by Yun Jiang
Introduction
The readout of Politburo's collective study session on "international communication work" (i.e., external propaganda and discursive power) is worth reading in full. It articulates the "why" and "how" of Beijing's international discursive efforts on a high level. And it foreshadows the doubling down of a struggle philosophy to international discourse as well as its continued prioritisation by Beijing.
What Xi's words boil down to is the idea that discourse is warfare, and Beijing's image has been tarred by bias and misunderstanding (rather than because of any objective problems with its policies per se). Therefore, what needs to be done is for China to sell its message better rather than reflect on its course of sail.
The problem with Xi's underlying philosophy is that discoursive engagement with the world is seen not as a dialogue, but rather as a contest. Discourse is not seen as co-creation or an opportunity for mutual understanding but rather as an arena where you are persuading or the target of persuasion.
Under this framework, China's story, voice and culture, become approved caricatures that serve the party-state's political agenda, rather than as vehicles for meaningful cultural exchange and friendship. This is a tragedy for China and the world.
Translation
Beijing, June 1, via Xinhua — The Political Bureau of the Communist Party of China Central Committee (CPC) held its 30th collective study on the afternoon of May 31 on strengthening China's international communication capacity.
While presiding over the study, Xi Jinping, General Secretary of the CPC Central Committee, stressed that telling a good China story, spreading a good Chinese voice, and showing a real, three-dimensional, and comprehensive China are important tasks in strengthening China's international communication capacity. We should deeply understand the importance and necessity of strengthening and improving international communication under the new situation, make great efforts to strengthen international communication capacity, form an international discourse that matches our comprehensive national power and international status, create a favourable external public opinion environment for China's reform, development and stability, and make positive contributions in driving the building of a community of human destiny.
Professor Zhang Weiwei from Fudan University gave a lecture on this issue and made work suggestions. Comrades from Politburo listened carefully to his lecture and then held discussions.
Xi Jinping delivered a speech while presiding over the study session. He pointed out that our Party has always attached great importance to external communication. Since the 18th Party Congress, we have vigorously promoted international communication to guard the truth and strive for innovation, rationalised the system of internal and external propaganda; built a media cluster with international influence; actively promoted Chinese culture to go out into the world, effectively carried out international public opinion guidance and public opinion struggle; and constructed rudimentary a multi-body, three-dimensional pattern of foreign propaganda.
As a result, China's international discourse and influence have significantly increased, while also faced with new situations and tasks. It is necessary to strengthen the top-level design and research layout, build a strategic communication system with distinctive Chinese characteristics, and focus on improving the influence of international communication, the appeal of Chinese culture, the affability of China's image, the persuasive power of Chinese discourse, and the guiding power of our international public opinion efforts.
Xi Jinping pointed out that it is necessary to accelerate the construction of Chinese discourse and Chinese narrative system; to explain Chinese practice with Chinese theory; to perfect Chinese theory with Chinese practice; to create new concepts, new categories and new expressions that work both in Chinese and foreign contexts; and to present the Chinese story and the ideological and spiritual power behind it more fully and distinctly.
It is important to strengthen the propaganda and interpretation of the CPC, and to help foreign peoples realise that the CPC is truly fighting for the happiness of the Chinese people, and understand why the CPC is capable [of success], why Marxism works, and why socialism with Chinese characteristics is good.
We should conduct in-depth research on the Chinese spirit, Chinese values and Chinese power from various perspectives, including political, economic, cultural, social and ecological civilization, to provide theoretical support for international communication work. It is important to promote Chinese culture to the world, to convey our message with culture, to spread our voice with culture, to educate people with culture, and to explain and promote to the world more excellent culture with Chinese characteristics that embody the Chinese spirit and contain Chinese wisdom.
We should pay attention to control the tone, be open and confident as well as modest and humble, and strive to build a credible, lovable and respectable image of China.
Xi Jinping stressed that China's ideas, wisdom and solutions should be widely publicised. As China moves closer to the centre of the world stage, it has the ability and responsibility to play a greater role in global affairs and, together with other countries, make greater contributions to solving the problems of all mankind. We should hold high the banner of the community of human destiny, rely on the vivid practice of China's development, base on more than 5,000 years of Chinese civilization, and comprehensively elaborate our concept of development, civilization, security, human rights, ecology, international order and global governance.
We should advocate multilateralism, oppose unilateralism and hegemonism, guide the international community to jointly shape a new international order that is more just and reasonable, and build a new type of international relations. We should make good use of various vivid and touching examples to illustrate that China's development itself is the greatest contribution to the world and contributes wisdom to solving human problems.
Xi pointed out that various forms of people-to-people and cultural exchanges should be carried out in-depth, and these exchanges and contacts between China and other countries should be promoted through various channels. We should innovate institutional mechanisms and turn our institutional, organisational and human strengths into communication advantages. We should give better play to the role of high-level experts and make use of platforms and channels such as important international conferences and forums and foreign mainstream media to make our voices heard. All regions and departments should work with their own characteristics and advantages to display a colourful, vivid and three-dimensional image of China.
Xi stressed the need to comprehensively enhance the effectiveness of international communication and build a strong team of specialists to meet the needs of international communication in the new era. It is necessary to strengthen theoretical research on international communication, master the laws of international communication, build a foreign discourse system and improve the art of communication.
We must adopt precise communication methods that are tailored to audiences in different regions, countries and groups, promote China's story and its voice through representations in globalised, regionalised, and more narrowly-focused contexts, and enhance the affability and effectiveness of China's international communication efforts.
We must make friends, unite and win over the majority, and constantly expand the circle of international public opinion friends who know China and who are friendly with China. It is important to be strategic and skillful in the struggle for public opinion, and to enhance the ability to speak out on major issues.
Xi Jinping stressed that party committees (party groups) at all levels should incorporate the strengthening of international communication capacity into the responsibility system of party committees (party groups) for ideological work, strengthen organisational leadership, increase financial investment, and help promote practical work and solve specific difficulties. Leading cadres at all levels should take the initiative to do international communication work, and the main comrades in charge [of party organisations] should both take personal responsibility and do it themselves. It is important to strengthen training for leading cadres in international communication knowledge and to bring into play the role of party organisations at all levels to create a good atmosphere of consciously safeguarding the dignified image of the Party and the state. Party schools (state administrative colleges) at all levels should give importance to the training of international communication skills. We should strengthen the construction of university disciplines and the training of reserve talent pools, and raise the level of international communication theory research.